A comforting, warm bowl of flavorful noodles infused with flavors of ginger, garlic, red chiles and coconut milk.  A quick basting sauce transforms tofu & chicken into delicious morsels to toss in. A large dose of vegetables makes for a healthful meal.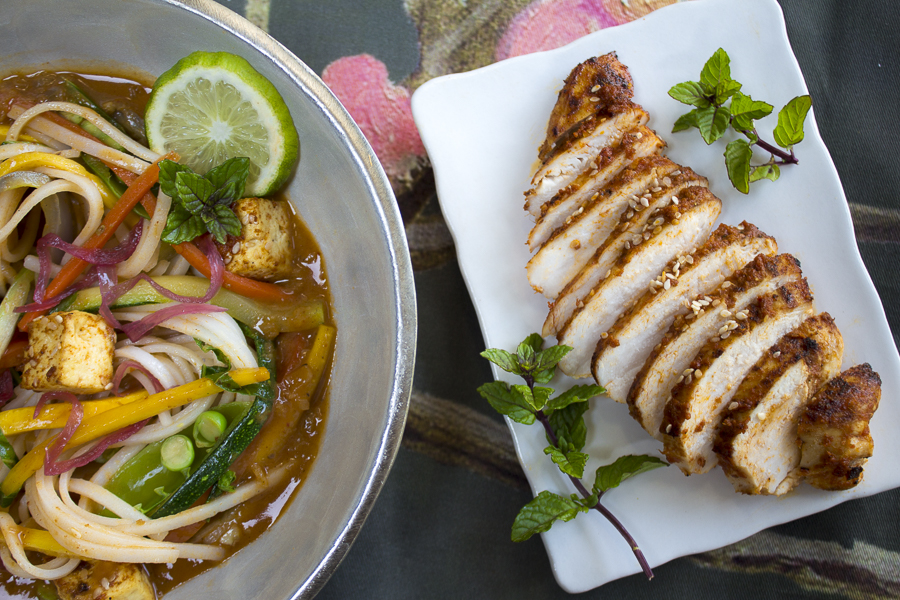 Grab a fork and dig into these slurp-worthy Coconut Curry Noodles! See the recipe and learn the secrets to an authentic, yet simple Indian flavored sauce. You're going to want to double the recipe, and keep some on hand… in the refrigerator or freezer!
The recipe includes: how to make a delicious sauce with both Red Curry paste and Curry Powder as its base – soaking rice noodles – sautéing vegetables of your choice – roasting tofu and pan cooking chicken with a red-curry basting sauce.
All worth your efforts! Cooking ethnic food at home is so fulfilling – and your kitchen will smell divine! 
Indian vs. Thai Curries:
While Indian dishes tend to use more dry spices, Thai cuisine often uses curry paste and fresh herbs instead – and is typically spicier. Thai curries are cooked for a shorter period of time and typically include vegetables, chicken, seafood accented with fresh herbs like mint, cilantro and basil. They also tend to be soupier, thanks to the addition of coconut milk or water.
A lot of South Indian & coastal based curry dishes contain coconut. North Indian curries are usually tomato based with either cream or yogurt.
Curry is an exotic, sometimes spicy, saucy dish that contains vegetables, sometimes meat, and is served with rice or noodles.
I personally like coconut based curries, the coconut milk adds a wonderful layer of depth and flavor. Coconut milk combines well with everything: fish, seafood, chicken, vegetables, lentils, daals… It really allows all the spices to infuse well into the coconut milk giving you a delicious curry.
Indians seldom use noodles in their dishes, unlike Thai cuisine. So – I am taking the liberty of using rice noodles because I love how the sauce grabs them. Use rice in the dish if you like too!
Ingredients worth knowing about:
Fresh Curry Leaves have a pleasant, aromatic subtle lemon-lime flavor. Can substitute dried. They are edible, or remove them if you prefer. Find a local Indian grocer near you, or source fresh or dried from a reputable spice company.
Red Curry Paste: contains Red Chili Pepper, Garlic, Lemongrass, Galangal (Thai Ginger), Salt, Shallot,  Spices and Kaffer Lime. A lot of flavor in this paste, medium heat and very versatile. I use it as a marinade and to add Indian flavors to soups and sauces.
Curry Powder, no two blends are alike: a mix of Coriander, Turmeric, Cumin, Fenugreek and powdered Chili Peppers. Other popular add-ins are mustard seeds, ground ginger, peppercorns, fennel, cloves and cinnamon (and more!)
The term curry comes from an indian word, kari, meaning sauce.
Enjoy the flavors of this fabulous noodle bowl!
Gluten-Free and Vegan (if adding only tofu.)
Karen