Rich, buttery, creamy Burrata Cheese is sliced and layered with summer Cherry Tomatoes, Pesto Vinaigrette and Basil Leaves. Simply layer in a stylish glass – and lavish the bright flavors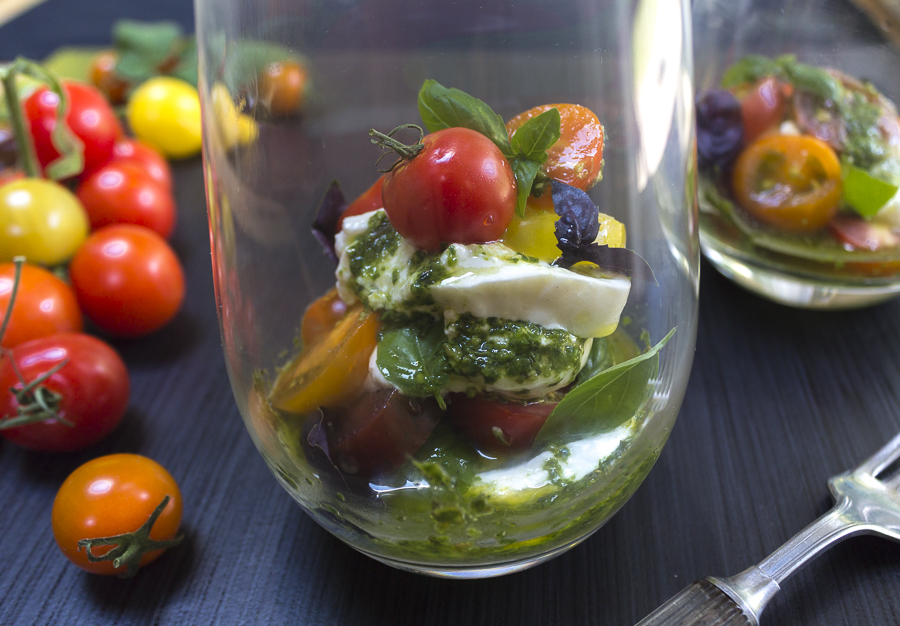 Burrata is a heavenly cow's milk cheese with a shell of mozzarella, and an interior cream filling, similar to a fluffy, full-fat ricotta. Inside are shards of mozzarella and cream – slice into it and all the goods spill out, ready to make everything fabulous.
I had a vision of layering the sliced cheese in a stemless glass with tomatoes and basil. In the North East, cherry tomatoes are making a show at local farmers' markets, they are the first tomatoes grown in soil to appear… heirlooms and beefsteaks need a little more time to mature. I whisked a little lemon juice and extra virgin olive oil into some pesto – to make a flowing pesto vinaigrette. I like the way it adds some pungency and bite (mine's a little garlicky) to the sweet Burrata. And,  it looks so pretty, a great recipe to mix quality, simple ingredients- with style.
The cheese is best served at room temperature, (within 48 hours) where the flavor can blossom. Simple preparations are preferable – two many flavors can mask it's distinctive, mellow, sweet essence.
Burrata is an incredible ingredient that can shine mostly on its own. Many restaurants place it prominently on their menus, where it's receiving artesian status – a connoisseur's dream. Dolled up with prosciutto, dotted with ripe tomatoes, or topped on a artisan pizza, Burrata shines in simple preparations. A good fruity olive oil, a drizzle of balsamic, and some basil leaves are all the embellishment this creamy cheese needs for the easiest appetizer… and some quality, crusty bread for dipping in.
The mozzarella in buratta is much softer than usual mozzarella, and the creamy contents of the pouch boast more flavor that mozzarella alone. Burrata means "buttered" in Italian.
Some History
Burrata originated as a way to use up extra curds left over after making mozzarella. While still warm, a piece of regular mozzarella is formed into a pouch. The pouch is filled with a mixture of leftover curds (basically, mozzarella before it's been kneaded and stretched to its normal consistency) and fresh cream, then it's closed and twisted into a topknot to seal in the filling.
Burrata goes back to Murgia, Italy and was first introduced in the early 20th century made from cow's milk, rennet, and cream. Like many staple foods in the world, this creation seems to have been a bit of an accidental genius when local cheese makers needed a use for the leftovers in the cheese making process.
To create Burrata, the cheesemaker uses the stretched curd to form a bag about 1⁄3-inch thick, which is filled with bits of unspun mozzarella and cream. The top is twisted closed and the pouch is dipped in brine. The cream thickens inside the bag, which produces a soft, rich center with a fresh milky quality that oozes out when the cheese is cut.
It was, for some time, an import from Italy and thus expensive and hard to come by, especially with true freshness. Since then it's gotten far more popular in the 60s and 70s across Italy and landing in a big way in America in the 1990s (before then bufala was the staple craft cheese for pizzas and salads) and mass-produced as people come to enjoy the concept of a strange but creamy and expertly delicious cheese.
Traditional Pugliese Burrata is wrapped in the leaves of a leeklike plant. Though these days it's enclosed in plastic first, the leaves are still included as indicators of freshness–if they're still green and soft, the cheese is in its prime.
Where to buy
Because Burrata is a fragile product that is costly to import, it is rare to find it in anything but a good cheese store. Good cheese shops will carry it only during the summer when the demand is higher, (with its popularity, the public is demanding it year-round.) I have found a 8 ounce ball sells for about $8.99.
Enjoy this melt-in-your-mouth delicacy!
Karen