Celebrate Cinco de Mayo with this Modern Mexican influenced dish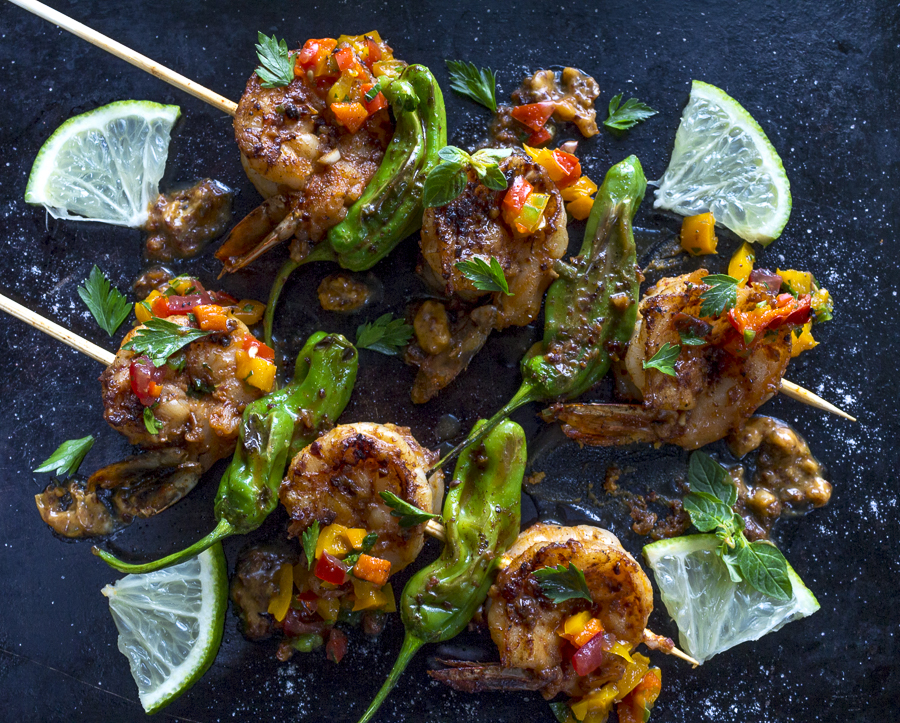 Throw a fiesta with this flavorful recipe – fire up the grill, and discover the flavors of Mexican cuisine, updated with fresh ingredients.
What better time to expand your palate than Cinco de Mayo, the celebration in honor of the Mexican army's win over the French at the 1862 Battle of Puebla? These skewers may be Americanized, but they're pretty simple. If you're throwing a Cinco de Mayo fiesta for amigos – shrimp is wildly popular, this recipe will sure to please!
Skewered Shrimp and subtly spicy Spanish Padrón Peppers are simply grilled, inside or out with a spiked Compound Butter and topped with a Roasted Pepper Salsa. Padróns are similar to their cousin, Shishito peppers, an East Asian variety. Shishito's are also somewhat mild, and just a tad thinner in size. Either one is great for skewering with the shrimp.
The key is the essence of the butter – which holds all the Mexican flavors, waiting to be released. Simply cream some butter with ancho chiles, (soak and then mince) and mix in jalapeño, garlic, red onion, lime rind and salt.
Roll up in a wax paper cylinder, and freeze until firm. Make ahead, and your cooking time will be swift.
Top with a simple Roasted Pepper Salsa, (make this ahead too!) which adds color, new textures and bright flavors. The heat content is up to you. Jalapeños offer a subtle heat, while Serrano chiles will add a more forward, spicy kick.
Serve with some rice and for a complete meal. Offer warmed corn tortillas, if you like, underneath the luscious grilled shrimp with the dripping butter sauce. A squeeze of lime juice elevates the dish, and adds a nice zesty flavor. Fresh herbs are always welcome, use fresh cilantro, parsley and oregano.
I love this recipe and serve it for friends, or a special weeknight meal at home. Such color appeal, and light on the waistline… gluten-free too!
Make the Butter & Salsa ahead of time for a quick recipe. See recipes below.
Feliz Cinco de Mayo,
Karen
Recipes: Roasted Pepper Salsa      Grilled Shrimp with Padrón Peppers ~ Ancho Chile Spiked Compound Butter
See another Mexican inspired recipe: Asparagus, Apple, Black Bean and Goat Cheese Taquitos – Crispy filled and rolled Vegetarian Taquitos with a Zesty Salsa Verde