Prepare yourself for the crispiest, crunchiest, most delectable granola you've ever had. Kosher for Passover and gluten-free, too!
A wonderful nosh when you're craving a treat, over yogurt, your favorite nut milk, or by the handful.
Matzo, the symbol for freedom – is the official Passover unleavened bread. Coated with just the right blend of sweeteners, nuts, and dried fruits, it bakes into a heavenly granola.
I have been making granola for years, and this year I'm enjoying this one during the eight days of Passover.
Wonderful gluten-free matzos (look for fiber-enriched) are now available in shops nationwide and make a great kosher alternative to oats. Be sure to look out for sweeteners that are certified kosher.
My method is simple, but important to follow the steps.
Cut the matzo, stacked with a knife. In a food processor – there is not enough control, the matzos, even pulsed will be assorted in size.
Cutting by hand is so easy, cut across the grain, and perfect 1/3" squares are formed.
Heat the sweeteners and pour over the matzo with nuts, cinnamon and vanilla. Bake in the oven until toasted and light golden.
Remove from the oven and add the dried fruit pieces, and bake just until set. Adding the dried fruits too soon is a mistake, they will burn.
I like granola that sticks together, instead of loose and crumbly. Break it apart into the perfect pieces for your palate.
This makes a great gift when visiting friends and family; I pack mine into glass canning jars.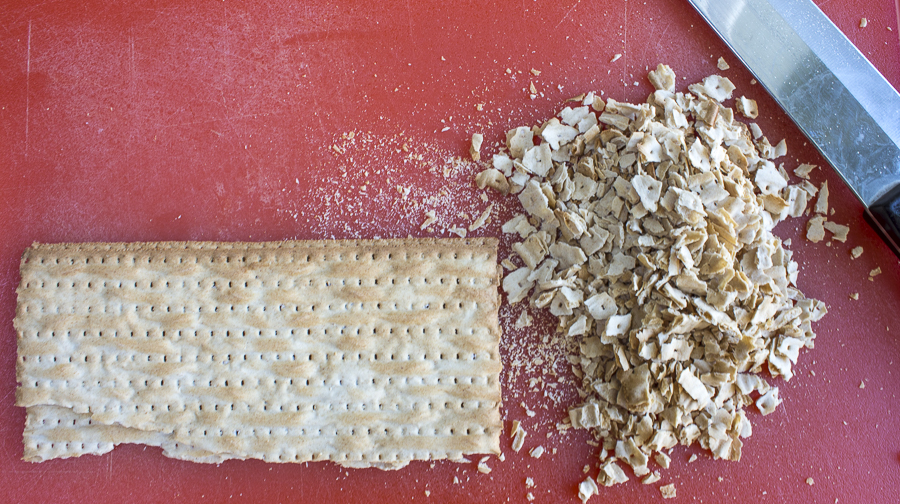 See recipe: