THE new breakfast classic – a hearty vegetarian spin on Huevos Rancheros filled with Zesty Greek Flavors to enjoy anytime of the day!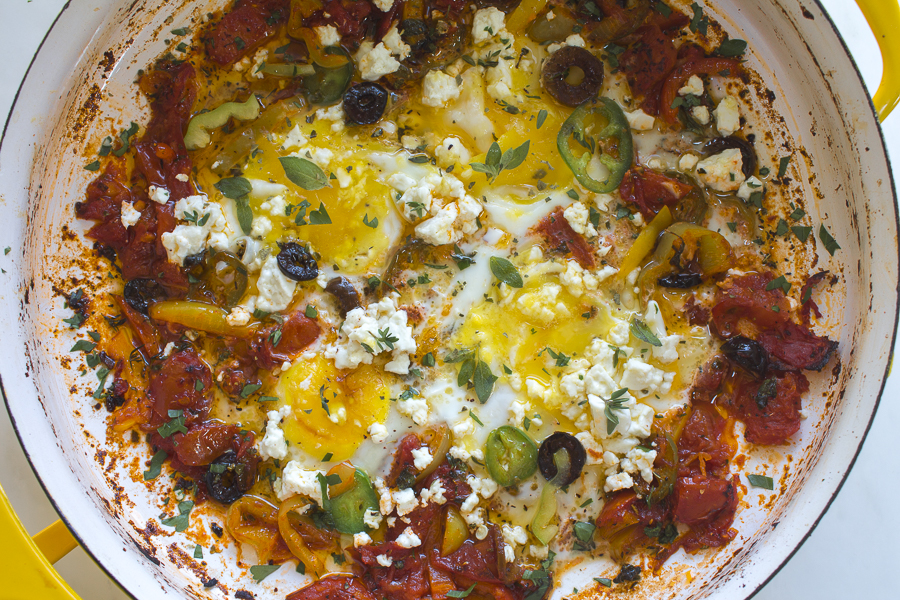 A one pan meal with such vibrant contrasts and loaded with vegetables, but light on your waistline.
The tried-and-true Huevos Rancheros recipe is a similar spiced baked-type egg dish – yet I'm loving how all these Greek flavors and textures surround the perfectly cooked eggs. It comes together quite quickly – sauté, crack and broil and the most delicious egg dish is ready, with feta melting into the zesty textures.
A homemade sautéed salsa cooks in under ten minutes – then break the eggs and add them to the pan, pushing away the salsa to allow room for them. Under the broiler it goes until the eggs are almost cooked, then add some creamy, crumbled feta cheese and broil to perfection, or until the desired doneness of the eggs (I like them a little firm in the center, with the yolks running.)
Flavors I've used in the Salsa:
Sliced jalapeño, colorful bell peppers, organic fire-roasted tomatoes, olives, shallots, garlic and fruity extra virgin olive oil.
I like to make my own salsa for this recipe – bottled types contain vinegar, and its acidic flavor is too bold with the mellow eggs. Jalapeños and feta cheese will add just the right tang.
Fresh oregano and thyme add the necessary Greek zesty-essence – so sprinkle them liberally on top.
Serve for a mid-morning meal, brunch (this would be a tremendous hit!), lunch or supper.
All heart-healthy ingredients, with great sources of lycopene, antioxidants, fiber and protein.
This Mediterranean-style meal contains extra virgin olive oil with wonderful flavor and health benefits. EVOO, from the first pressing of olives, has anti-inflamitory properties and is associated with the decreased risk of heart disease. When you shop for olive oil,  look for those that are sold in dark tinted bottles since the packaging will help protect the oil from oxidation caused by exposure to light.
Serve with your favorite toast or pita bread – I have made this beautiful bread ~ "Simit" which is a round rope type Turkish bread (which I think tastes like a great sesame bagel!)
Enjoy!
Karen