Spring Asparagus teams with Black Beans, Goat Cheese and Sautéed Apples inside these Corn Tortilla Taquitos. Serve them with a Tomatillo Salsa Verde for ultimate meal or appetizer!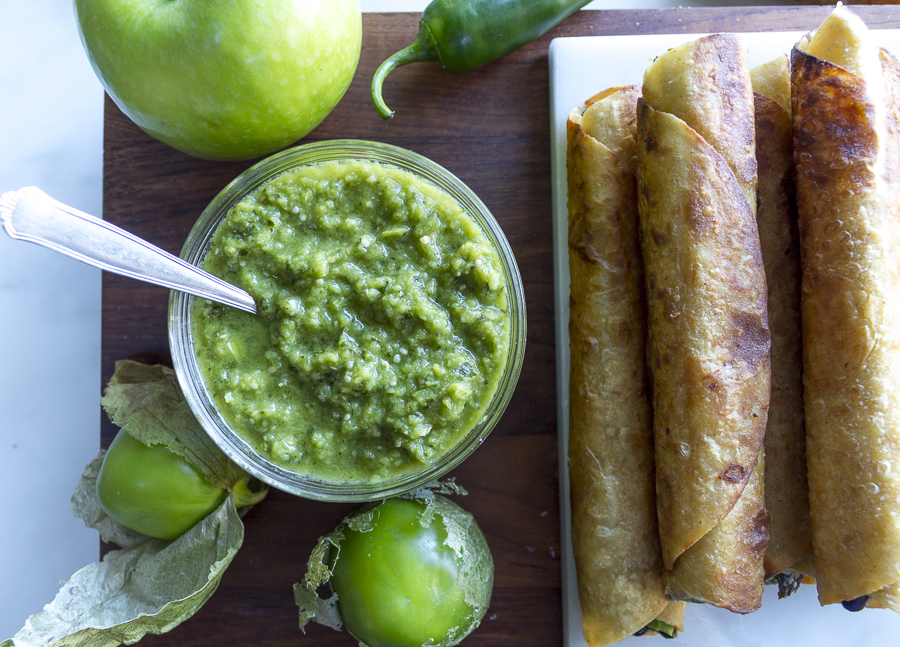 Taquitos are rolled corn tortillas with a savory filling, here with a tempting Vegetarian interior. They are cooked in a little oil, not fried, and finished in the oven until perfectly crisp.
Finally – wonderful asparagus has hit local markets bursting with juicy flavor and gorgeous green hues… an early taste of Spring. Sauté them with onions,  jalapeños and apples – then fold in goat cheese and black beans.
Roll tightly in warmed corn tortillas and cook until crisp, seam side down (no need to add toothpicks to secure.)
This is really a quite simple recipe – make the Salsa Verde in advance so it's ready for dipping!
These are perfect for an appetizer (you can cut them into smaller wedges), or part of a healthy main meal. Add other proteins too inside, such as grilled chicken,  shrimp, tofu or tempeh.
My Salsa Verde is an easy blender salsa – can be made hot or mild, depending on your taste-buds. The flavor comes alive adding green apples to tomatillos, garlic,  jalapeños, onion and parsley. I think this will be your new staple salsa! I am lathering it on everything – grilled spiced salmon, scrambled eggs and sandwiches.
This recipe is naturally gluten-free.
Healthy can be delicious! 
Enjoy!
Karen