A Gorgeous and Healthful Salad and Dressing Bathed in the Hues of a Sunset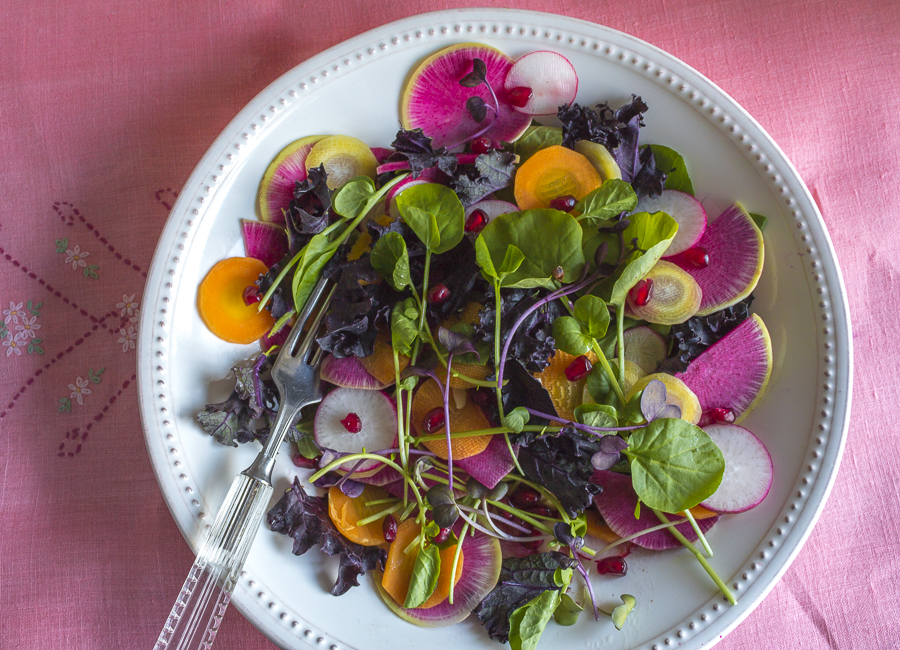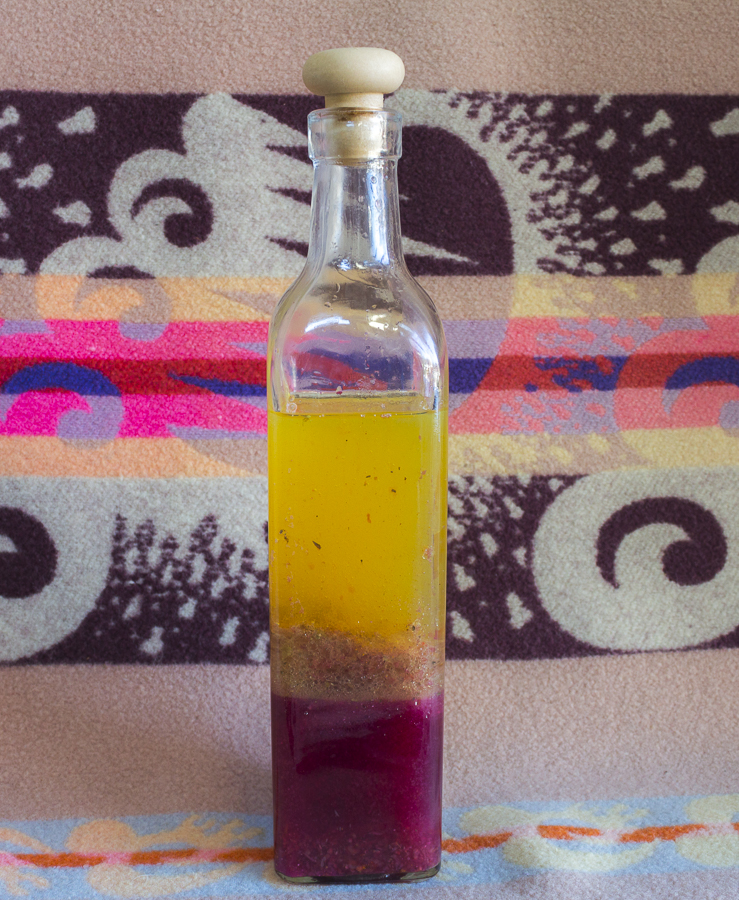 Sunsets:  a blaze of color – oranges, pearly pinks, vibrant purples.
In winter, I believe we all need a little pick-me-up from the grey, cooler weather.
I created this salad and salad dressing with a bolt of energizing color – and because a raw salad can be a delicious treat.
Crisp watercress, with its peppery bite team with torn purple curly kale, thinly shaved watermelon radishes and rainbow carrots, microgreens, toasted almonds and pomegranate seeds.
The Sunset Vinaigrette has an ombre color effect when it stands, pomegranate juice helps creates a beautiful hue.
It is a wonderful dressing to have on hand in the refrigerator, and you can simply "shake" the ingredients together.
To a glass bottle or specialty dressing flask, add pomegranate juice, red wine vinegar, lemon juice (I love squeezing meyer lemons) and seasonings (onion, garlic, oregano, sea salt, freshly ground pepper, cane sugar (or raw honey.)
These flavorings rest on the countertop for 20 minutes to blend the flavors and macerate.
Then measure neutral safflower oil (or extra virgin olive oil if you prefer) and nutty walnut oil with a little turmeric – which adds a little sunny, yellow color.
Then 1-2-3 ~ Shake the oil into the dressing in 3 batches to emulsify. Easy enough!
"Sunsets, like childhood, are viewed with wonder not just because they are beautiful but because they are fleeting." – Richard Paul Evans
Enjoy!
Karen