Caramelized Roasted Eggplant teams up with Peppers, Cucumbers, Olives, Parsley, Mint, Toasted Almonds, Crispy Shallot Rings and a Zesty Meyer Lemon-Ginger Dressing – A Healthy Mediterranean Twist!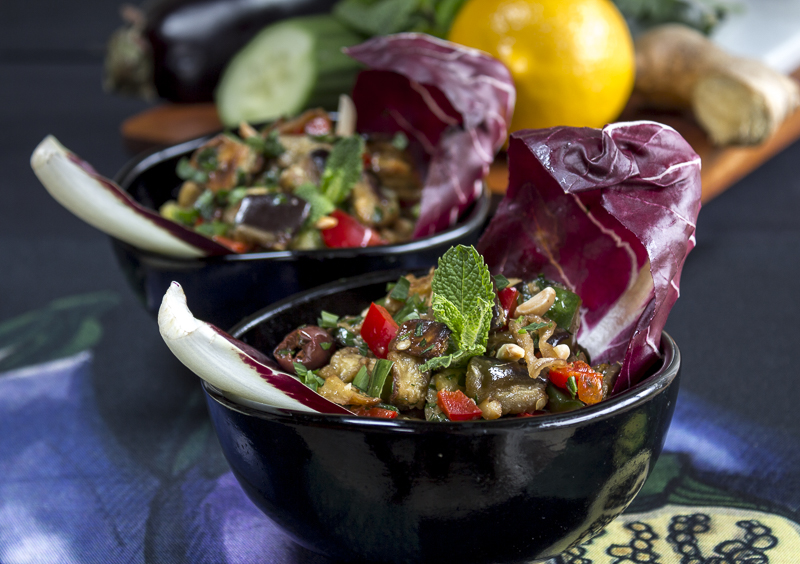 Want to start the New Year with a healthier lifestyle? This salad is a great nourishing dish which is gluten-free, dairy-free, vegan and delicious! 
I simply love cooking all kinds of eggplants – known as "aubergines" in the western world. They are plentiful year-round, are low calorie and have a healthy nutritional profile. They have a great caramelized flavor on their own, and soak up and flavors they are infused with. In this recipe, I teach you to salt the eggplant cubes first, then pat dry before roasting. This, you-shouldn't-miss-step removes some bitterness from the fruit (yes it's a fruit not a vegetable) and halts it from soaking up too much oil. Leave half of it's skin on, it has nutritional value, and helps to hold the cubes together.
A very healthy dish with bold flavors… you will love the Zesty Meyer Lemon-Ginger Dressing tossed in the salad.
We get away with cooking the eggplant in only 2 tablespoons of extra virgin olive oil – it will be crispy, will not stick to the pan, and is perfectly roasted.
The dressing is very sharp, made easily and quickly in a blender. It contains a good amount of ginger, one of the healthiest spices, (a root) which has a powerful anti-inflammatory and antioxidant effects. This dressing, with only 1 tablespoon of oil is a perfect pairing for the earthy roasted flavor of the eggplant, and compliments the other ingredients.
Meyer lemons are here! A winter fruit with a mystical flavor, only mildly acidic, with a sweeter flavor then regular lemons. A cross between a lemon and a mandarin orange with an orange- yellow hue (named after the agricultural explorer,  Frank N. Meyer.) You will find them from December until April, a shorter season than conventional lemons. I urge to to try these smooth, golden skinned beauties, and "give them a squeeze." They have a way of brightening a gloomy winter's day with natural sunshine.
Lots of freshly chopped parsley and mint adds a good dose of fiber,  flavonoids and antioxidants – and praised as an aid with digestion. I use lots of it… think tabouleh. Peppers, olives and cucumbers round out the vegetable add-ins, a sort of Mediterranean influence. Toasted almonds add a great nutty crunch, so toss them in before serving.
With such a healthy low-fat salad – serve warm, room temperature or cold, I think some fried shallot rings would be a luxurious and tasty addition. You can roast them instead if you with, see the recipe for details.
Enjoy!
Karen