It's apple harvest time,  so start the fall season with a moist, spiced apple cake dotted with chunks of apples topped with a generous height of crunchy streusel. Go a step further and add caramelized apples and a dripping caramel sauce to each slice. For a gluten-free option, see the recipe.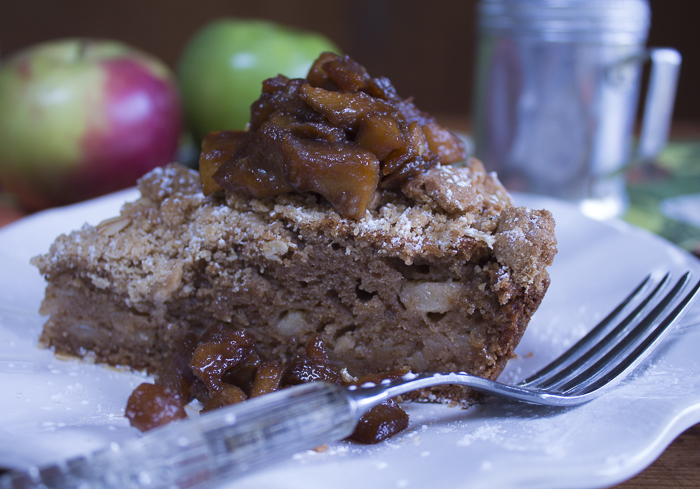 Fall brings cooler weather, leaves showing their colors, pumpkins, mums and a plethora array of apples.
What's more comforting than apple pie? – A moist, sweet piece of streusel topped apple cake!
One of my favorite fruits is the Macoun apple. I am anticipating their arrival, as they show up at markets in the middle of October. This wine- red toned fruit has a creamy white interior and is a little firmer than the McIntosh variety. The flavor is perfectly sweet with a hint of berry flavor. The perfect eating and cooking apple, fabulous for apple sauce! Use one of these softer apples in the cake batter, and a firmer one such as Granny Smith, Fuji or Honey Crisp for the caramelized apples – they keep their shape better.
For my cake, I thought about harmonious textures that sing to the taste buds. The cake is moist and light, not too sweet, yet perfect to eat unadorned with just a sprinkle of confectioner's sugar… or a scoop of vanilla bean ice cream. In my opinion, the streusel adds a necessary finishing crunch.
Make the streusel first, then when the cake batter fills the pan, the streusel with get dotted on top lending a fabulous crunchy bite. The cake can be cooked in a square, round or fluted false bottomed pan (I used the later one.)
Caramelizing apples are quite simple and adds a double apple-punch which is irresistible. When the apples are removed from the pan, some butter and sugar (I love coconut palm sugar – dark, sweet and natural) is stirred up until the sugar has melted, then heavy cream – just a bit, creates a fabulous, simple caramel sauce. Serve the cake piled high with the caramelized apples and drizzles of caramel sauce, or – plate slices of cake and top each one individually.
If you prefer a gluten-free cake – see the recipe! The cake is wonderful using a gluten-free flour mix without sacrificing flavor.
Enjoys the sweet flavors of Fall,
Karen