The ultimate Veggie Burger with Falafel Seasonings and Lemon-Tahini Sauce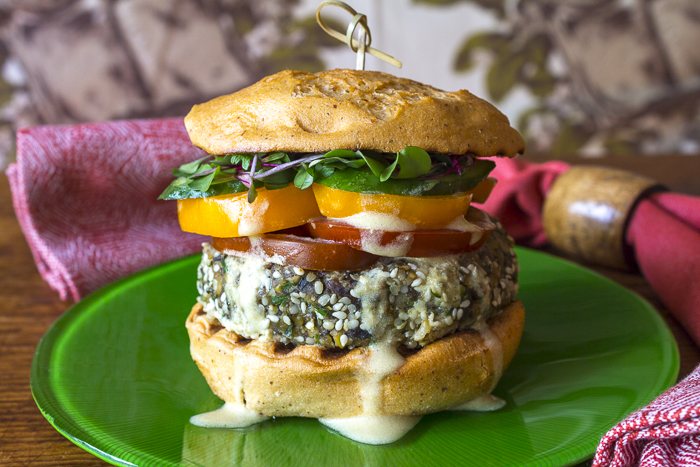 Want a Veggie Burger thats loaded with flavor, and holds together for the grill?
Try this recipe – its base starts with ebony colored, earthy portobello mushrooms for amazing texture. Portobellos are the "meatiest" of all vegetables, and paired with chickpeas and brown rice – adds lean protein and helps bind them beautifully together. Gone are the days of the patties falling apart – these are sturdy for grilling, and the master mixture can even transform into meatballs! – Just roast in a little extra virgin olive oil.
I have added some "falafel seasonings" – parsley, cumin, coriander and lemon rind (zesty!), for a Middle Eastern twist, and finish off with a topping of my Lemon-Tahini Sauce.
Add height and a blast of antioxidants with stacks of colorful tomatoes and cucumbers. Microgreens or sprouts are the perfect finishing touch.
Change up the flavor profile if you wish for a classic burger, omit the falafel-seasonings and crumble in some dried oregano and chopped basil (just saying… but I loove the seasonings here.) Ketchup could garnish these… look for "organic" varieties or you will end up with a high fructose corn syrup mess – it's in most!
Grill these burgers inside on my favorite grill pan (I have three!) or outdoors on a well oiled, hot grill.
These burgers are gluten free – I use oats and oats flour in the mix. For Vegans – simply substitute the beaten egg with a flaxseed replacement (see recipe for details.) Udi's make some pretty tasty gluten-free hamburger buns in the freezer section of many grocery shops – I put them on the grill to enhance their flavor.
Portobello mushrooms retain their nutrients when cooked, by pan-grilling their flavor gets pumped up a notch. They are low in calories, sodium and carbohydrates – and are a good source of protein, fiber, selenium, riboflavin and zinc. A serious nutritional punch!
I recommend doubling the recipe. They freeze wonderfully in waxed paper and sealed properly. A home made burger when the whim strikes! … or when your vegetarian friend stops by.
Always cookin',
Karen