It's Barbecue Season! This fantastic not-too sweet Mop is used as a basting sauce and side sauce. It adds flavor and moisture while you are cooking. North Carolina Style, vinegar based with tons of smokey flavor.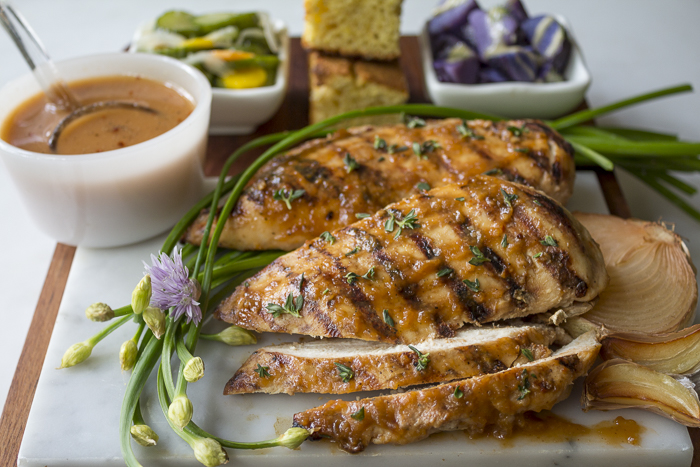 Basting Mop Sauces are not sweet. They are slathered over meat, usually a slow-cooking process where a sweet, thick barbecue sauce would burn. You might have read in many BBQ recipes "baste with sauce only at the end of cooking". Not with a Mop – baste often – this adds flavor and moisture.
In North Carolina mops are favored – with just enough vinegar "sauce" to wake up your tastebuds and nothing else. Traditionally basted on pork over low heat for up to 18 hours – it's "real BBQ", then the meat is pulled, and routinely loaded onto a bun and served with coleslaw.
Typical Barbecue Sauces are thick and sticky, laden with brown sugar and molasses. Commercial varieties are just too sweet for my tastebuds… and most contain high fructose corn syrup, unnatural smoke flavor (believe me, it's not "natural"), caramel color and preservatives… a processed mess! I do make my own from time to time – yet I am embracing mops, which are tangy, yet full of flavor.
My mop gets its special flavor from smoking onions and garlic, then infusing with organic cider vinegar with spices – some hot, and a touch of maple syrup for balance. I smoke onions and garlic in a Camerons Stove Top Smoker (buy it here). It's an amazing stainless steel wonder – gently infuses smoke in all you add to the rack. Great for vegetables and fish… a NATURAL smokey flavor! You simply add 1  1/2 tablespoons of fine wood chips on the bottom of the pan, and in 10 minutes you are ready to smoke. The smoking process takes only 10 – 15 minutes for vegetables. Adds a wonderful dimension to salsas, dressing and sauces.
This recipe takes only minutes after the onion and garlic is smoked. All ingredients are whisked together in a pot, then blended for the right consistency. Will last a few weeks refrigerated. I have tested the Mop with a whole spatchcocked chicken (laying flat) and boneless chicken breasts. If you are cooking on a gas grill, not charcoal or wood, this sauce will infuse a smokey flavor without the hassle. The whole chicken developed a crispy skin, with a tender flesh and the vinegar based sauce was a great compliment. The chicken breasts turned out juicy too, you may marinate them in the mop, then baste as you cook. I love to slice up the meat and add to main-course summer salads.
Here's to summer grillin' !
Karen