Middle Eastern Za'atar is a delightful zesty-herbal mix made even more special and pungent with Fresh Thyme and Fresh Oregano. Baste it on my Vegetable & Halloumi Cheese Skewers, and Grilled Halibut with Garden Tomatoes.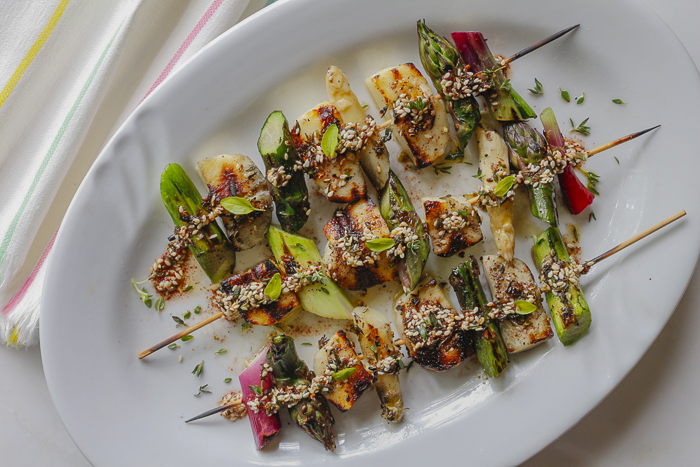 My home-blended Za'atar has a brighter color and lighter mouth-feel than what you find in Middle Eastern shops and better grocery stores. This is due to the thyme and oregano –  they are fresh, growing nicely in my herb garden. The seasoning mixture is traditionally comprised of dried herbs, toasted sesame seeds, ground sumac, and course salt,  yet like "curry" – there are infinite varieties, no two exactly the same. Sumac is another Middle Eastern natural flavoring, characterized by its deep red berries and mostly sold dried and ground into a coarse texture with a tart, cranberry-lemon like flavor. It adds a brilliant, almost sour accent to the mix – so a little less salt is necessary for a complex taste. I have added a little garlic to the mix – because I love garlic in almost everything! (When garlic is fresh I dehydrate slices on parchment in my oven at the lowest setting.)
With a balance of floral herbal notes and rich flavors, za'atar is a versatile everyday spice blend. In the Middle East, it is used on meats,  vegetables and breads (like pita and pizza), and mixed with olive oil to make a spread or dip. Also popular as a savory breakfast dish – Lebanese and Israelis spoon it into lebneh (strained yogurt). Za'atar has a bright zesty-herbal flavor with a deep nutty and woodsy accent. It is both popular and widely used in cooking and as a condiment in Armenia, Iraq, Jordan, Lebanon, Libya, Morocco, the Palestinian territories, Syria, and Turkey.
For cooking – I mix the spice blend with an even amount of fruity extra virgin olive oil to infuse the ingredients. Heat activates the blend and releases its aromas and flavors. I coat foods (a quick marinade) with this mixture, then grill (or sauté).
When the foods are still warm – an extra layer of Za'atar is spooned over for even more aromatic layer of flavor – and many times I add some freshly squeezed lemon juice. Add some extra spices you love to create the mix to your liking  – some add cumin, marjoram, basil, savory, orange peel, nigella seeds and hyssop… to name a few!
If you know my style of cooking, big, bold natural flavors are its cornerstone.
Spices not only just excite your taste buds but are composed of an impressive list of antioxidants and essential oils – this wonderful herbal mixture has super health benefits.
Try these recipes and add a little Middle Eastern and Mediterranean flair to your cooking.
Enjoy this zesty recipe,
Karen