"Mojo" Chicken is bursting with Zesty-Infused flavors. Your new go-to marinade for the ultimate intensity on the grill.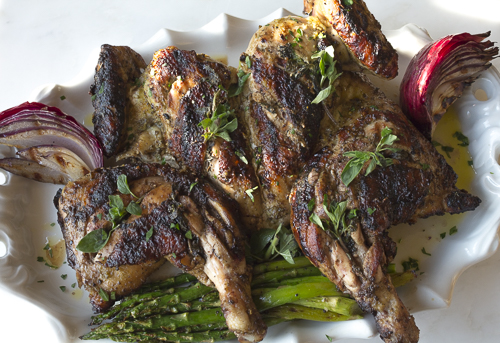 The finished flavorful grilled chicken and vegetables
A Cuban inspired marinade is perfectly-piquant and lends zest and a bouquet of bright flavors. All simply whirled in your blender, which creates a beautiful green base.
Moist lemon-orange kissed chicken with heady flavorings – garlic, cumin, shallot, parsley, oregano, jalepeno and extra virigin olive oil. A universal marinade for vegetables, meat and seafood (never marinade seafood far in advance, the acids will cook the fish before grilling.)
An easy, yet special method for cooking chicken is to "spatchcock" it – butterfly and remove it's backbone. A kitchen shear or sharp knife will do the job quickly.
Flavor alert! ~ Slash the chicken throughout the skin on the breast and thighs – the marinade will infuse into the meat.
Add the spatchcocked chicken skin side down on the grates of a well heated grill, and cook until dark and lightly charred. This will cook quickly – the fat on the skin will drip and flame up, so watch carefully. It produces a flavorful, crispy skin. Turn over and reduce heat to the lowest setting, and cook until tender and juicy, usually one hour.
I love pulling the tender meat and crackled skin of the chicken off the bone and creating main course salads, a perfect weeknight meal. While I am grilling the chicken, I lay down asparagus spears and red onion wedges (leave the skin on – peel later for a tremendous pink color-pop.)
Create the salad: Layer the chicken and vegetables with your favorite lettuce leaves, vinaigrette and my cornbread croutons. See the recipe for details.
MOJO: The word originally means a charm or a spell. It's said to be derived from African-American language where it refers to witchcraft. The word first received widespread exposure in the 1957 recording of the song "Got My Mojo Working" by Muddy Waters.
Enjoy this recipe, I believe it has magical charms!
Karen